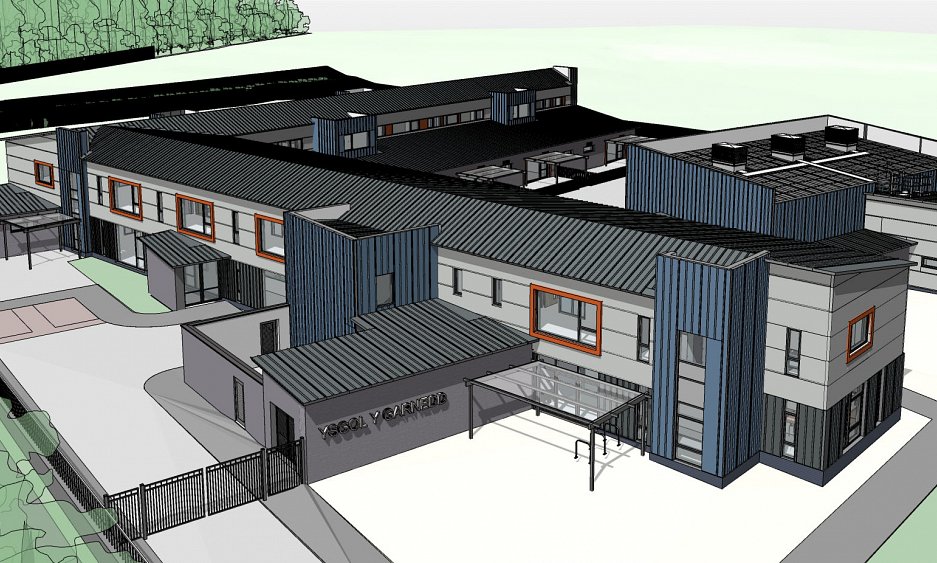 Pre-Planning Consultation is currently being undertaken for a new Primary School at Ysgol Y Garnedd and part of Friars School sports field, for Gwynedd Council. The Council intend to replace the existing School, Ysgol y Garnedd with a new 420 capacity area School to accommodate the children of Penrhosgarnedd, Tal-y-bont and Llandygai catchment area. This will include 14 classrooms, 2 additional learning needs classrooms (ALN), a Cylch Meithrin along with a number of different teaching spaces, a large hall, staff and administration areas.
Consultation Documents are available to view and download below and a public consultation event will be held at Ysgol y Garnedd on the 15th August 2018, from 16:00 to 20:00. Anyone who wishes to make comments regarding this proposed development is being invited to write to us at:
Email: wales@agarchitects.co.uk
(Please include a subject reference 'Ysgol y Garnedd' in any email correspondence.)
Address: Ainsley Gommon Architects,
The Old Police Station,
15 Glynne Way, Hawarden,
Flintshire, CH5 3NS
Comments must be received by 20th August 2018
Cynhelir Ymgynghoriad Cyn-Gynllunio ar hyn o bryd ar gyfer Ysgol Gynradd newydd yn Ysgol Y Garnedd a rhan o faes chwaraeon Ysgol Friars, ar gyfer Cyngor Gwynedd. Mae'r Cyngor yn bwriadu disodli'r Ysgol bresennol, Ysgol y Garnedd gydag Ysgol ardal newydd ar gyfer 420 o blant o ddalgylch Penrhosgarnedd, Tal-y-bont a Llandygai. Bydd hyn yn cynnwys 14 ystafell ddosbarth, 2 ystafell ddosbarth anghenion dysgu ychwanegol (ADY), Cylch Meithrin ynghyd â nifer o fannau dysgu gwahanol, neuadd fawr, mannau staff a gweinyddu.
Mae Dogfennau Ymgynghori ar gael i'w gweld a'u lawr lwytho isod a chynhelir digwyddiad ymgynghori cyhoeddus yn Ysgol y Garnedd ar 15 Awst 2018, o 16:00 i 20:00. Mae unrhyw un sy'n dymuno gwneud sylwadau ynglŷn â'r datblygiad arfaethedig hwn yn cael ei wahodd i ysgrifennu atom i:
E-bost: wales@agarchitects.co.uk
(Rhowch gyfeirnod pwnc 'Ysgol y Garnedd' mewn unrhyw ohebiaeth e-bost.)
Cyfeiriad: Ainsley Gommon Architects,
The Old Police Station,
15 Glynne Way, Hawarden,
Flintshire, CH5 3NS
Ymatebwch erbyn 20fed Awst 2018
Location Plan
Site Survey
Proposed Site Layout
Proposed Ground Floor Plan
Proposed First Floor Plan
Proposed Roof Plan
Proposed Boundary Plan
Proposed Elevations
Proposed Courtyard Elevations
Temporary Works Plan
3D View 1
3D View 2
3D View 3
3D View 4
3D View 5
3D View 6
3D View 7
3D View 8
3D View 9
3D View 10
Design and Access Statement
Drainage Strategy
Geo-Environmental Report
Penrhos Avenue – Vehicle Tracking
Alternative Systems Review
Draft Construction Method Statement
Traffic Assessment
Ecological Surveys
Flood Consequences Assessment
Tree Report – Penrhos Avenue
Penrhos Avenue – Tree works and Condition Map
Tree Report – Ysgol Y Garnedd
Tree Report Addendum – Ysgol Y Garnedd – removal of trees T4
Tree Report Addendum – removal of trees T6 & T7
Tree Works and Condition Map
Tree Works and Condition Map
Planning Forms
Site Notice
Rhybydd safle