We thought 2016 was a busy year, but 2017 proved to be even busier, seeing us design and construct a large variety of projects for both new and long-standing clients. From our two offices based in Merseyside and North Wales we have worked on projects from as far north as Cumbria and Lancashire to those as far south east as Essex, Newport in South Wales and Aberystwyth on the West Coast.

2017 has seen the completion of a number of key schemes on site. Ysgol Awel Y Mynydd, a new 21st Century primary school we have been working on since 2013, opened to 420 excited children ready for the new academic year in September. Another flagship scheme was completed in Newport in October for Derwen Cymru, an association dedicated to housing people over the age of 55. The scheme of 17 apartments and 1 bungalow was a milestone project for Derwen, being their first completed development since they were formed in 2014. Our new Occupational Therapy Suite at West Kirby School was officially opened by the Mayor of Wirral in October and is now making a real difference to the pupils at the school, many of whom have a range of learning difficulties and complex needs. Within the commercial sector our new factory and offices for Lexicraft in Bromborough Pool was handed over in the Autumn, providing warehouse, offices, canteen and welfare facilities.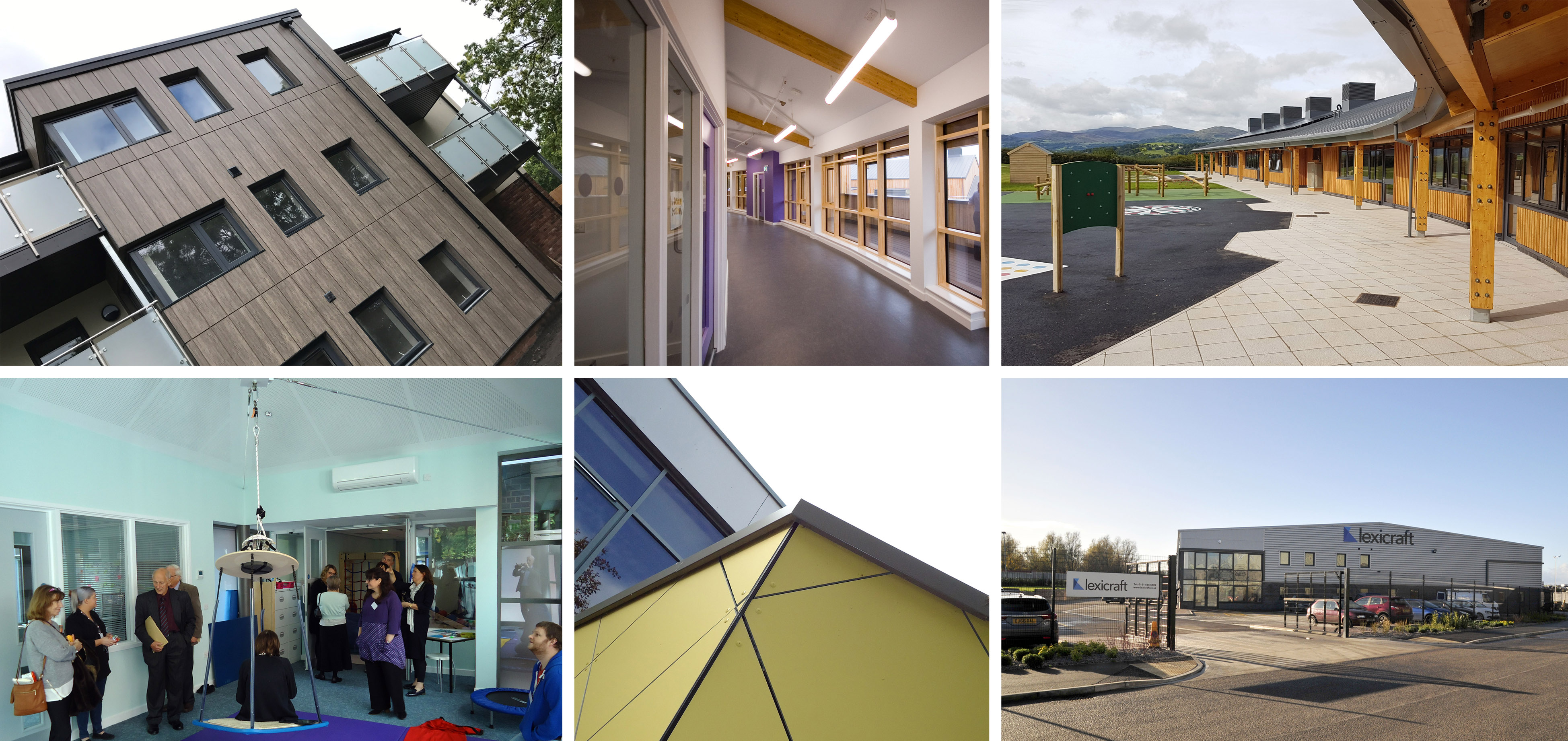 Our landscaping work continued and saw the completion of the first phase of planting at The Green Gallery at the Williamson Art Gallery in Birkenhead. The project saw us team up with former directors and retained consultants Peter Gommon and David Ainsley who undertook the initial design work, before our involvement to help deliver the scheme on site. We were also pleased to see the completion of new sensory gardens at two Wirral SEN schools in December, providing fun outdoor sensory environments for the children.

We remained busy with our onsite works, with some exciting projects really starting to take shape. The Mitre Street project in Burnley is progressing well, a 30 bedroom wellbeing centre that is due to open later this year providing support, training and accommodation for homeless and vulnerable people. Our Gaer older persons apartment scheme in Newport is now nearing completion and looking impressive, including 800m2 of fully integrated PV roof which provides a source of renewable electricity direct to each of the 39 apartments and as well as the Community Hub. Our 40 unit extra care scheme in Porthmadog has now made substantial progress on site and is due to be handed over later in 2018.

Significant projects to advance in the past 12 months include Pentre Canol, our Supported Living Village in Denbigh. Having received Planning Approval for the 70 unit scheme in February, Conservation Area Consent followed in September and we are looking forward to the appointment of the successful contractor early in the New Year. Our housing work has continued to be diverse, with multiple Planning Approvals gained both for our social housing clients and private house builders, varying from small to large developments in rural and urban locations.
We finished the year with some good news for two of our schemes on the drawing board. Our second development for HPBC, a revolutionary charity that combines self-build, volunteering and corporate philanthropy, gained Planning Approval in December. The scheme involves the refurbishment of the former St. Bernard's Church in Liverpool to create eleven affordable apartments and five new build houses and flats, and we are looking forward to working on the next stage of this in the new year. It was also announced just before Christmas that Care & Repair North East Wales had successfully been awarded Welsh Government funding to help purchase and redevelop the former Tata Steel Sports and Social Club in Shotton. We have been helping the group with their ambitious plans to create a Health and Wellbeing Centre to serve North East Wales and we are looking forward to what 2018 will bring.

Within the office, we welcomed new members of staff Ethan Schofield, Lauren Jakemen and Matthew Reece, who have all joined the practice having completed their undergraduate architectural degrees. Project Architects Gethin Jones and Sarah Davies were promoted to Associates in April as part of their developing role in the practice. Personal milestones for staff included Richard Beatson celebrating the birth of his second child in June, and Gethin Jones getting married in August. We have continued our programme of professional development including advanced training in BIM (Building Information Modelling) enabling us to remain at the forefront of this technology. Our annual away day in Sheffield was a great success and saw us visiting a range of inspiring and thought-provoking schemes across the city including a modular housing scheme on Kelham Island.
We have supported a number of charities including Jeans for Genes day (Genetic Disorders UK), Wear it Pink Day (Breast Cancer Now), Christmas Jumper Day (Cystic Fibrosis Trust), 6 Music T Shirt Day (Alder Hey Children's Charity), and Kyle's Goal Paediatric Rehibition for Brain Injuries through our Christmas E-card campaign. Richard, Maurice and Mark supported our client North East Wales Care and Repair by playing live with their band at an event at the former Tata Steel Sports and Social Club in Shotton.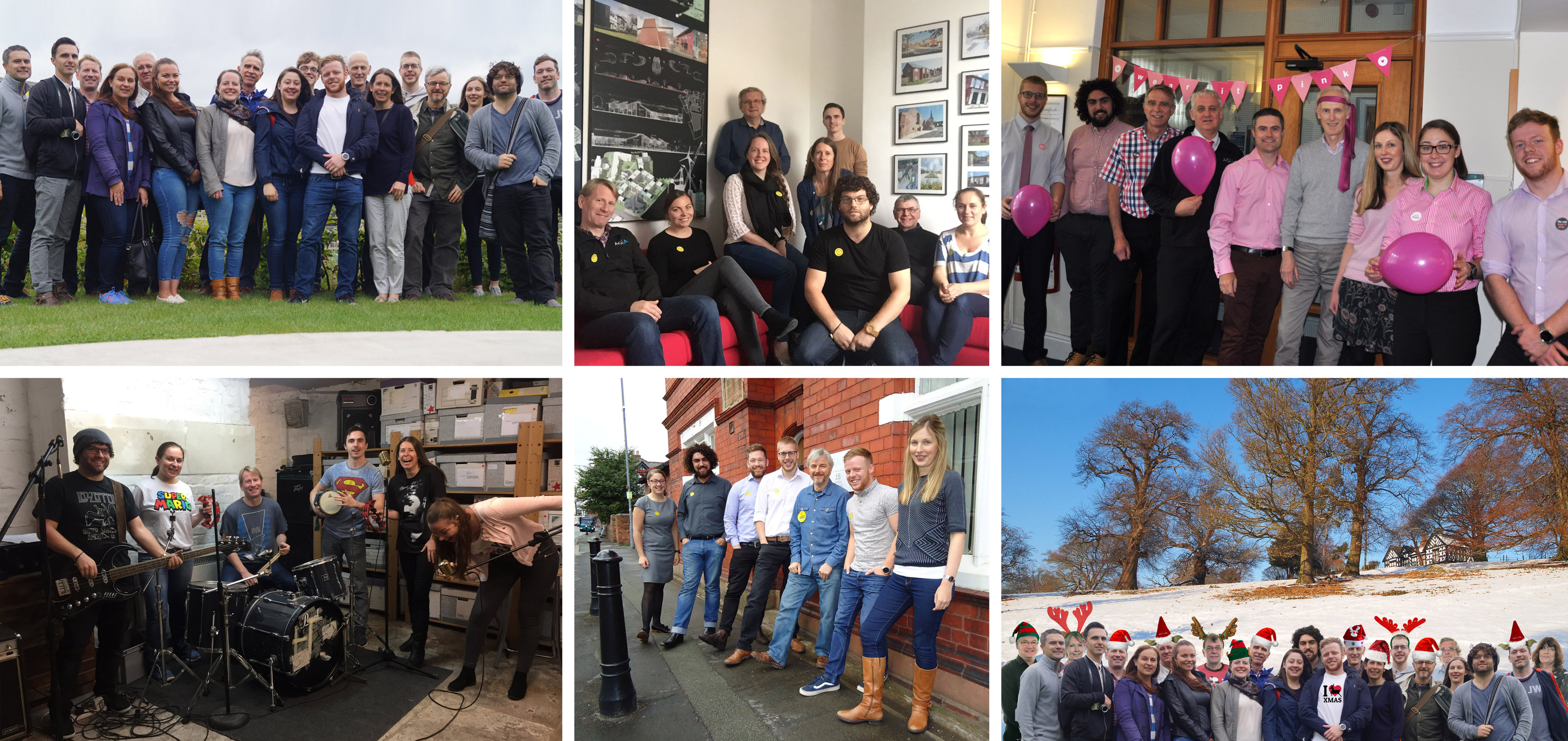 All in all, 2017 has been a very rewarding year for Ainsley Gommon Architects and we would like to take this opportunity to thank all our Clients for their continuing support. 2018 is already shaping up to be an exciting year ahead with some interesting projects in the pipeline. We are really looking forward to getting started and working with all our new and existing Clients in the year ahead.