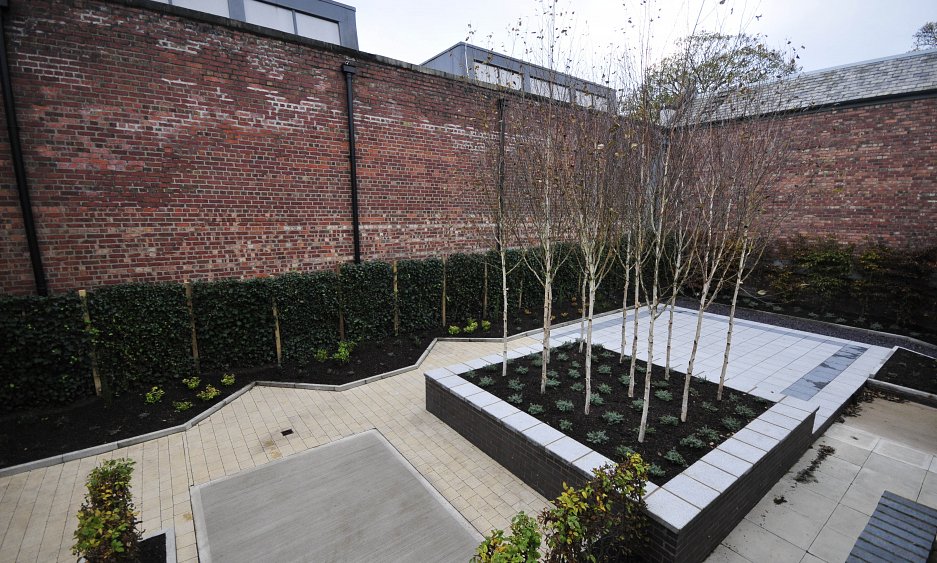 On Saturday 11th November 2017, the Williamson and Priory Friends held an event at the Williamson Art Gallery to mark the completion of the initial phase of planting at The Green Gallery. The quadrangle at the art gallery had fallen into serious disrepair and was an unused and unloved space until former directors of AGa, Peter Gommon and David Ainsley came up with a design proposal to restore the courtyard and to turn the quadrangle into a landscaped multi-use outdoor space that can be used for events and functions at the gallery. The Williamson and Priory Friends raised funds to undertake the works and Ainsley Gommon architects has been involved in the delivery phase of the project over the summer of 2017. Progress with the project was revealed to the Friends and to members of the public that were visiting the gallery at the time of the event.
The hard landscape works and then the planting has all been undertaken by multi-award winning landscape contractors LANDSTRUCTION LTD from Sealand Road near Chester and the works have been completed to a very high standard with carefully detailed paving and high quality planting. In order to do this, it was necessary to overcome access difficulties affecting machines and material deliveries. The initial phases of the project have been completed on time and on budget and the Williamson and Priory Friends are now raising funds to provide outdoor benches, tables and chairs so that the space is ready for use in the spring of 2018. Further phases in future will include subtle lighting and an outdoor servery counter. It is hoped that a striking modern artwork or sculpture will form a centerpiece to the space and a plinth has been created to form a foundation for this.
It is hoped that the space will become a major asset to the Williamson Art Gallery as a welcoming and sheltered haven of peace.
For more information please visit our project page here.