The broad body of work that had been undertaken in the first decade removed the awkward question, have you done this before? We were able to compete on equal terms with larger practices, and where the brief demanded consultation with the end-user we had a strong advantage. CAD replaced drawing as the principle method of producing information, and the size of the projects increased exponentially, as did the scope of consultation. The office in Wales worked closely with the Birkenhead office in our first major project in South Wales – Glyntaff, in 1988, where our first project office opened on the estate. The stock transfer and redevelopment of the Glyntaff Farm Estate provided work for the practice over the next twelve years, working closely with the residents and furthering the consultation skills learnt working with the Liverpool Housing Co-ops in the early days.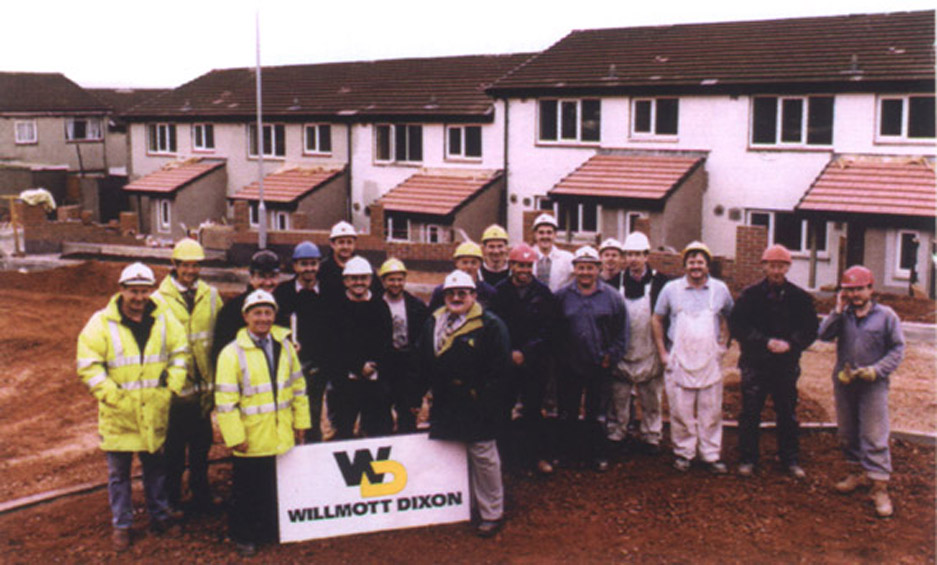 Towards the end of the decade the London office separated from the practice, but new work for Torfaen County Borough led to the opening in 1998 of a full time South Wales office on the Fairwater III estate in Cwmbran.

Steve Geary
Appointments were still won through competition, and opportunities remained for building long term relationships with clients based on the quality of service we provided. During this period, a number of key members of staff joined the Practice, including Steve Geary, an Architectural Technologist who joined the Birkenhead office,who would later go on to become a Director.
Building Surveyor Hywel Jones joined to manage the South Wales office and the North Wales office expanded with Architect Neil McGill and Architectural Technician Maurice Garnett joining the team, both of whom would later go on to become Associates.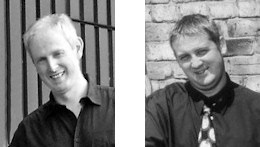 Neil McGill (left) & Maurice Garnett
Mindful of the need to demonstrate that we managed our projects well, we gained Quality Assurance accreditation to ISO 9001 through a period of training and development, and with our involvement with Willmott Dixon, we became pioneers in Partnering for Procurement both in Wales and England.
Eight new awards, including the significant RIBA sponsored Chavasse Park Competition 1st Prize-now Liverpool One-win and an RIBA Welsh Housing Design Award for new homes at Glyntaff continued the culture of aiming high.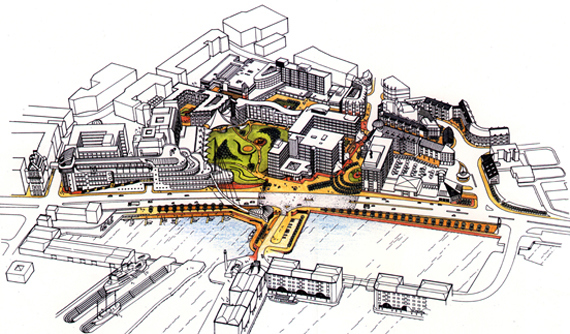 Chavasse Park, winner of a National RIBA Competition to redevelop Central Liverpool
Significant projects during our second decade 1990-1999 included:
Hulme 3-Phase One Master-plan and New Housing; Glyntaff Farm Phases 1-8 Master-plan; Estate Refurbishment and New Housing; The Antiques Triangle Restoration and Refurbishment; Waterloo Buildings Restoration and Refurbishment; The Willowbrook Hospice; Hope House Hospice; Prestatyn High School Library, Maths Building and Remodelling; Buildings and Landscapes for Merseyside Development Corporation; Brunswick Harbour Commercial Housing Development; Bromborough Pool Village Hall and Master-plan; Fairwater III Estate Master-plan and Refurbishment, Cwmbran; Ashworth Hospital Landscape Strategy; Larks Wood New Road Housing in Waltham Forest and Garden City Estate Remodelling Deeside.