We wanted to be known as an approachable and friendly practice that could work within limited budgets to produce our cheap but cheerful schemes. All of us as individuals were keen to be associated with high design standards, but we were rarely able to allocate enough time at the detailed design stage to fully resolve the details of our designs, though through Andy Mair we had great expertise in hot water and heating systems.
The change in the political structure of Liverpool in 1983 almost brought the practice to a premature end by stopping almost all of the work on co-ops, and restricting the flow of housing association work to a trickle. In response we decided to diversify our workload and geographical base to improve stability; After Peter Gommon completed the Birmingham Landscape course and professional practice in 1982, we started to develop a Landscape Design workload. David Wilkin set up the Bristol Branch in 1984, moving there in the same year.
One of the reasons for examining the early history of how the practice started was to try and establish how and why decisions were made, so that we could define how the practice could develop and change without losing its spirit or character.
Originally we couldn't imagine being in a position to employ highly qualified people because of the expense, and the volatile nature of our workload. We relied on competent year-out students and on being able to find an extra pair of hands for short periods in times of stress. This is understandable when you appreciate that we could rarely see more than eight weeks ahead on the cash flow. Partners played a significant part in producing production drawings on early schemes, and spent a lot of time on exciting two up two down rehabs and on site visits.

Alf Plant
Gradually however, through a growing network of people who had worked in their year-outs or holidays, there came to be a pool of people who came back into the practice to become part of the family.Someone who would later play a significant part in the development of the practice entered stage left at this time. Alf Plant joined in 1982 as a year-out student bringing his special skills in precision model making and draughtsmanship, and later returned to become a core member of the family and later a director.
On the admin side we had enjoyed a prolonged period of stability, both Dorothy Lewis (1980) and Lee Robinson (1982) being part of the original team. In 1985-86 there was a shift of philosophy to a view that since people did return to the practice, and increased their skills and experience through working out of 1 Price Street, we could and should become a people based firm rather than a hire-and-fire firm. Perhaps surviving the great crash of 1983 had given us a new perspective.
Forward planning and strategy was done on an ad-hoc basis, although formally worked up through monthly partners meetings which were usually held in one of our houses. The meetings which were formal and structured were highly productive and usually lasted for three hours, towards the end dissolving into rather relaxed and emotional affairs as a result of the main-brace being spliced. The anti-intellectual tradition held sway during this period in that in spite of many efforts to put office philosophy and aims and objectives on the agenda these concepts were usually discussed post the euphoric stage and as a result didn't get minuted. However the principle that developed through these meetings was that we would try to retain people who wanted to grow with the firm.

David Wood
David Wood had joined us in his holidays and returned to Birkenhead after graduating from the Edinburgh school. When he said he wanted to move away from the region and make it in the Big Smoke we discussed the funding of a new office, to be worked up in principle in the same way as Bristol.
David could be characterised as "The Go Getter", he had toured the States in his year out, and drunk deep from the cup of post modernism. He wanted to work with more commercial clients than our established housing clients, and to experience the cut and thrust of real competition.
Attitude; "Let's go" and "phew"-usually expressed after a hairy moment.
_Experience:_- Rehabs for Family Housing, private houses for eccentric individuals and setting out drawings for asymmetrical free-form layouts (Shorefields).
The idea of a London base appealed to the original partners, not because of any sense of self importance, but simply because so much work originated in the capital, and there were natural linkages between London and Bristol. At the time Bristol was working for a client in London-Camden Graphics.
The cost of paying for these expansions had been borne by the Birkenhead Office which fortunately had experienced a period with a stable workload. Through much burning the midnight oil and some very productive workers, the office had remained profitable. The reason for this was two very important projects, the Enveloping of Goodwin Avenue and Mason Avenues for Wirral Borough Council which were our first truly large commissions with a finite input for a finite reward. By comparison with the open ended co-operative schemes these were 'proper" jobs. They also meant that everyone in the office participated at some stage in putting together elements of the schemes. They had a unifying effect on working practice after many years of each of us flying our own kites (and also at times flying by the seat of our trousers).
In 1985 Simon Venables joined us in Birkenhead. Simon would later be responsible for growing the practice into the far reaches of Wales and brought with him different skills from a health and specialist needs background. Like the originating Partners, Simon was 'people focussed' and believed in the same ethic that as designers we are accountable to our clients and end users and should always 'go that extra mile'.

Simon Venables
Attitude: "Keep smiling and be positive …a little hard work never hurt anyone"
Experience: Hospitals and health care facilities for people with dementia, sheltered housing.
With two fledgling offices to feed Birkenhead needed to be profitable and it needed to know that its offspring would quickly become self supporting. The Bristol office in spite of generating a perfectly respectable turnover and carrying out the practice's biggest ever project-the Airbus wing factory in Bristol- failed to generate a profit during the first three years. It was during this period that significant differences in approach and philosophy emerged, which lead to the split of with David Wilkin 1988 and the formation of Ainsley Gommon Wood. During the period of 1986 – 1988 the increased size and complexity of the practice had seen the creation of Associates Garry Usherwood and Simon Venables.
With Garry came the introduction of computers for draughting while Simon helped lead the push into new areas involving health care and special needs. Peter and David developed our urban design and master-planning capabilities while Alf promoted our conservation and restoration skills. They were heady times with our experience and knowledge base growing rapidly.
The opening of the North Wales Office in 1988 was a further initiative intended to allow us to work in Wales, building off existing contacts and work in the North West. It has often been suggested that Peter and David were looking for somewhere to keep their tiny flock of Lleyn sheep that led to this move, while David had bought a small farmhouse in Llanrhaeadr.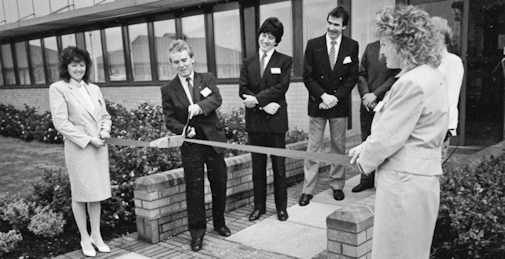 However, it was here in Wales that our existing housing association and local authority client base could be further developed. Simon set up the office, initially on Deeside Industrial Park in a Welsh Development Agency starter unit, assisted by Mark French, Mike Jones and landscape architect Vicky McCombie.
Mark would later take a major role in developing the Wales offices and brought with him his health care experience, professional skills and prudence. Some of the early jobs in Wales were quite bizarre. The feasibility design for an Hydrographic Centre in Iraq, being one of a number of curious projects for which we never got paid. Having escaped a meeting with the Iraqi Navy as the political tide changed, we thankfully won the Eisteddfod Architecture prize in 1988 for a boat museum in Newport that featured in the Architects Journal. The £750 prize money helped us pay off our overdraft bank charges and gave us a welcome boost.
Although we were bracing ourselves for the recession that followed in the early nineties, the Wales office was successfully launched and we were coping quite well. Despite the growing bank overdraft, we tried not to think too much about the financial risks we were taking. Nevertheless with London thriving and both Birkenhead and Wales working closely together, the late 1980's and early 1990's were a time to feel optimistic, as we were growing our collective experience and the services we could offer our clients.
Computers enabled David Ainsley to do cash flows which could respond easily to changed circumstances, and which could predict downturns rather than them coming as a nasty shock. Curiously, by having this extra information, our bank manager became more nosey about what was going on, rather than being reassured by greater transparency. From the very beginning we had consistently won awards for our work which had reinforced our position as a practice that took design seriously. We had become of necessity much better organised in the running of our affairs, but we still lacked a coherent framework and team structure to base long term decisions on. The split-up and reformation of the partnership had lead to too many hours spent closeted in smoke filled rooms, in marked contrast to our ideal of sharing an open office with the whole team.
By the end of the first decade we stood on the threshold of a new and exciting period of consolidation and growth in which we endeavoured to involve everyone who was working at AGWA in the process, based on two key principles. Firstly that it is impossible in commercial life to stand still; you either expand or contract. We didn't want to contract, so we therefore had to continue to grow. We had learned that expansion from within using home-grown talent was the surest and most rewarding way to do this and could enable our practice to maintain the identity that had formed part of the original DNA and had been retained and strengthened during our first ten years.
Team members who played a significant role in this first decade included Ben Downey, an architect's son from Essex who trained at Liverpool School of Architecture. Ben had worked for his father, and had a firm grasp of what an architect was meant to do. At the same time Alf Plant had returned from University after completing his degree, and was busy refurbishing large Victorian houses into flats, as well as making superlative models. Paul Lester joined the practice straight from school, and although no one knew it at the time, was on the launch pad of a career that would see him become a director of the practice.