As we plan the exhibition, we plan to post a number of articles which tell the story of the practice, which we hope will be of interest and give a foretaste of the exhibition.
The Partnership, originally created in 1979 brought together three Liverpool Graduates who wished to practice together, pooling resources, and working with client groups that they found interesting. They were acquaintances more than friends, and in fact David Ainsley and Peter Gommon had rarely crossed each others paths before joining the partnership. We would be characterised as:-

'The entrepreneur' – David Innes Wilkin
He started it all, and had always had that particular confidence that you need to go it alone, and back your own ideas. From a schoolboy and undergraduate he had always had an eye for a "good wheeze". He had worked for private practice, Runcorn Development Corporation and in Partnership with a graphics consultancy.
Attitude: If you saw £50 lying on a coffee table, you'd bend down and pick it up.
Experience: Principally housing and interiors.
He knew what accounts looked like.

'The Professional' – David Ainsley
Second to join, and an early escapee from Local Authority life, where he had worked for the City of Liverpool and Wirral, ending up as a principal architect with a team working for him; an experience neither of the other partners had. He knew how local authority committees worked.
Attitude: Let's do this properly, and get the details to work.
Experience: Principally Social Services with some education work as well.
He didn't know what accounts looked like.

'The Housing Specialist' – Peter Gommon
Third to join, escaping from a housing association in-house design team, he had previously worked in a private practice that specialised in cost yardstick housing, but always found working for other people – committees etc. frustrating.
Attitude: Smash the cistern, you've got nothing to lose but your chain.
Experience: Cumbrian rural housing, sheltered housing and new urban estates
He didn't know what accounts looked like.
David Wilkin drove an elderly Citroen Dyane and smoked.
David Ainsley drove a more recent Renault Six and smoked.
Peter Gommon drove an elderly Triumph Herald convertible and smoked sometimes.
The partnership, Inness Wilkin Ainsley Gommon, started in a single room on the second floor of 1 Price Street, and there were the three of us with assistant Andy Mair, a Liverpool graduate and Lowestoft lad, like David Wilkin, and Diane MacDonald a part time secretary. Initially, before expanding, the practice turnover was approximately £45,000 p.a, and was to expand to £75,000 p.a when we joined together.
The practice motto, culled from a seminal work on management by Robert Townshend and originally coined for AVIS, was "we try harder", and we had to run hard to stand still. With small resources and limited space it was not forseen that we would ever grow to a size greater than ten people; usually there were between five and eight of us.
Everyone had to act as a jack-of-all-trades since there was no back-up to help out. Everyone worked long hours, evenings and weekends too and there were plenty of hairy moments. The stress was eased by what became our Friday afternoon ritual period of relaxation spent in The Letters (the old Letters PH).
The atmosphere we created was positive, a touch of that 60's optimism. We liked working together in a studio (big room) and felt that this was a positive way of getting other people who joined to feel part of the show. No one had any specific management training and everything was learned on the job. Our heavy involvement with the Liverpool Housing Co-operatives was an excellent character forming experience, and taught all of us a lot about our strengths and weaknesses, but also how to react to people's needs and particularly how to organise collecting information and presenting ideas. The heavy involvement in co-ops spanned the period 1979 – 1986, and during that time we spent a lot of time working on competitions too.
David Wilkin had taken a Masters degree at the School of Civic Design, and was very aware of current thinking in Participation and Consultation coming out of the American Schools on the West Coast. When we were chosen by our first Coop, Hesketh Street, and started working with them, David had an absolutely clear idea of how to manage the process and to engage with our clients on a one to one basis. Everybody else was simply picking it up as they went along.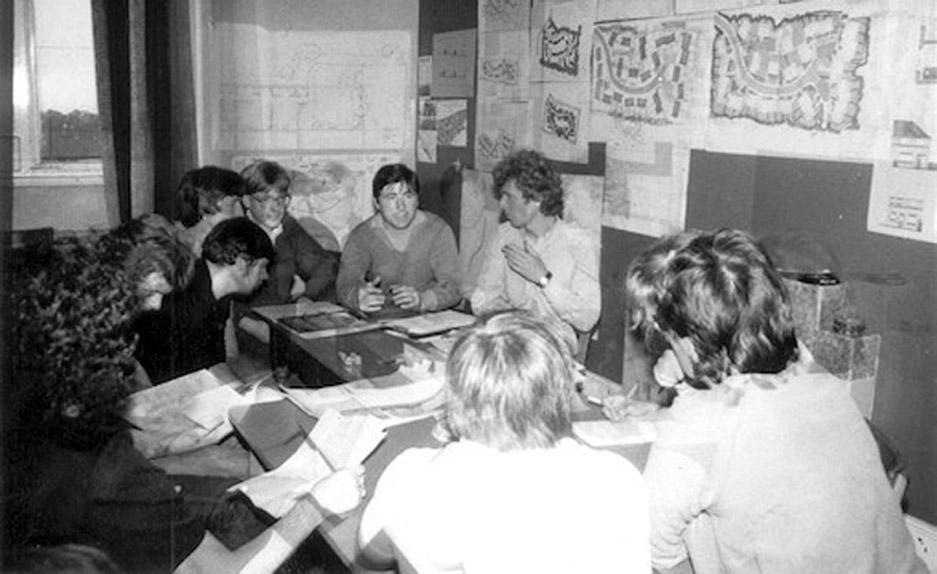 The Coops were the perfect client group for us; they matched the nature and style of the Practice. David Wilkin had invited David and Peter to join him on a self supporting basis, bringing work and contacts with them. Their entry was eased by a form of sweat equity in which they grew their stake in the partnership over time. Working for Co-ops allowed David Wilkin to use his knowledge and experience of participation. They were left field, as we were, and appealed to our practical approach to design, where we used the term cheap and cheerful not as a perjorative term, but to describe what we sought to achieve. By definition the houses were supposed to be cheap to build, by ingenuity we could achieve this and design them to be cheerful, and life enhancing. There was a superabundance of cheap and nasty out there, which the Coop members were trying to avoid by creating their own living environments.
The learning and sharing to gain of working directly with our Coop clients for relatively recent graduates was very much a home-from-home, a form of open university in which we all learned from each other and the contractors as they too came on board and shared in the process. While we were doing this, the office's finances were underpinned by a steady flow of Rehabs, mostly Two-up-Two-downs in Birkenhead and in South Liverpool. This steady flow of short contracts provided a sound education in contract law, managing costs, providing clear information using word processed schedules of works and negotiating with builders. To be continued….